Lake Superior Hides Jet's Fate in Storm
The following News Article was published in the State Journal in Madison, WI, on Tuesday, November 24, 1953.
Two More Truax Fliers Missing
Lake Superior Hides Jet's Fate During Storm
Men Presumed Dead; Cause of City Crash May Stay Mystery
By June Dieckmann
(State Journal Staff Writer)
Two more Truax Field fliers were presumed dead Tuesday night after their F-8C Scorpion Jet crashed in Lake Superior Monday night just five hours subsequent to another F-89C crash which killed two Truax officers here.
The victims of the Lake Superior accident were the pilot, First Lt. Felix E. Moncla Jr., 27, of 15 Sherman Terrace, a native of Moreauville, La., and the radar observer, Second Lt. Robert L. Wilson, 22, from Ponca City, Okla., whose Madison home was 301 Huntington Ct.
On Investigating Mission
The two lieutenants disappeared while on a mission from Kinross air base Sault Ste. Marie, Mich., to investigate an unidentified plane over Lake Superior during a snowstorm.
Their F-89C vanished suddenly from the radar screen as they approached the other plane, later identified as a Canadian C-47 transport 30 miles off its course. No radio or radar contact has been made with them ever since.
Lt. Col. Harry W. Shoup, Truax commandant, said it was believed the F-89C crashed into the lake and both Lts. Moncla and Wilson are dead.
Air Force officials in Chicago said Tuesday night that F-89C jets will not be grounded despite the two crashes of planes from Truax.
Cause Here Unknown
The exact cause of the crash Monday afternoon on the Lake Wingra shore here probably will not be determined because salvage crews were not able to retrieve parts of the plane that were blasted deep into the lake bed and marsh by the plane's explosion, Col. Shoup said.
Killed in the Madison crash were the pilot, First Lt. John W. Schmidt, 28, a native of Del Rio, Tex., who lived at 10 Sherman Terrace, and the radar operator, Capt. Glen E. Collins, 30, of 24 Craig Ave. a native of Indianapolis, Ind.
Mrs. Schmidt, an expectant mother was consoled by her neighbor, Mrs. Moncla, Monday night while neither of them knew that at the same time Lt. Moncla's plane had crashed in Lake Superior, 400 miles away.
Lts. Moncla and Wilson were members of part of the Truax 433rd fighter-interceptor squadron which is temporarily stationed at Kinross field while squadron members from there are taking gunnery re-training at Yuma, Ariz.
During Snowstorm
At 5:22 pm Monday, Lts. Moncla and Wilson were dispatched during a snowstorm to investigate the unidentified plane some 100 miles north of Sault Ste. Marie.
As the radar screen revealed they were approaching the other plane, they disappeared.
Col. Shoup said he believed Lts. Moncla and Wilson must have suddenly overtaken the slower transport plane and "peeled off" to avoid a collision. The jet perhaps stalled and went into a spin, crashing into the lake, he said.
No Distress Signal
No distress signal was radioed by the lieutenants.
Air-sea rescue crews from Canadian and U.S. Air Force and Coast Guard bases continued their searches for the fliers Tuesday night, but were hampered by snow and poor visibility.
The nearest land to where the Truax jet is believed to have crashed is Keweenaw Point, Mich., 70 miles to the southwest, and the Canadian shore line which is 40 miles to the northeast.
Kinross field officials reported that the jet had two hours of fuel when it took off Monday night. The plane was equipped with two rubber rafts and each of the lieutentants wore a life jacket.
Col. Shoup said that even if Lts. Moncla and Wilson were able to inflate and board the rafts, it is not believed they could have survived the night on the frigid, snow-swept Lake Superior.
Lt. Moncla came to Truax field in July, 1952. He and Mrs. Moncla have a daughter, Sharon, five months, and a son, David, 20 months. Lt. Wilson, who is unmarried was assigned to Truax last June.
Pilots Here Avoid ..
Officer Believes Victims Crashed to Avoid Homes
The Air Force's jet pilots at Truax Field, numbering 150, conscientiously maneuver their planes away from Madison and suburbs to avoid endangering the lives of residents. Lt. Col Harry W. Shoup, Truax commandant, told The Wisonsin State Journal Tuesday night.
"Every one of our pilots is concerned about the terrific hazard in having a city under our planes, and every one of them is thoroughly briefed in every method possible to avoid the city in landings and take-offs he said.
"Sometimes I get the shakes watching our boys take off and turn much too quickly, just to avoid the city," he declared.
Col. Shoup explained the pilots' precautionary flying after receiving reports that some city residents were concerned about the F-89C jets crashing Monday afternoon only a few blocks from homes in the arboretum. Killed in the crash were Lt. John W. Schmidt, 28, and Capt. Glen E. Collins, 30, both fathers of families.
"From witnesses stories and our investigations, it is my firm belief that those two boys purposely stayed with their plane to prevent it from crashing into a residential section." Col. Shoup said.
"They (Lt. Schmidt and Capt. Collins) were one of our finest defense teams. I wish you could have known them. They were calm, cool and collected - good experienced officers who I know considered their responsibility to the city below their crippled plane as well as to their own families," he said.
"We're really serious about our mission," Col Shoup said, explaining the constant alert kept by the 433rd fighter interceptor squadron and ground crews despite weather, holidays or any circumstances.
"And it hurts when people think we take it lightly.
"We don't have a bunch of kids out here flying. They're experienced pilots with wives, who worry, and families. They're not about to take chances with their lives or anyone else's," he stressed.
Truax officials have not received many complaints from Madison residents about the noise or danger of jets flying over the city, the colonel said.
"I'm thankful most people understand that the noise and the calculated risk is very little sacrifice for the protection which will be ready when we need it.
"And before the few selfish persons are too quick to complain and critisize, I hope they remember that those boys flying over Madison now are going to be the ones knocking down enemy planes when the time comes," Col. Shoup said.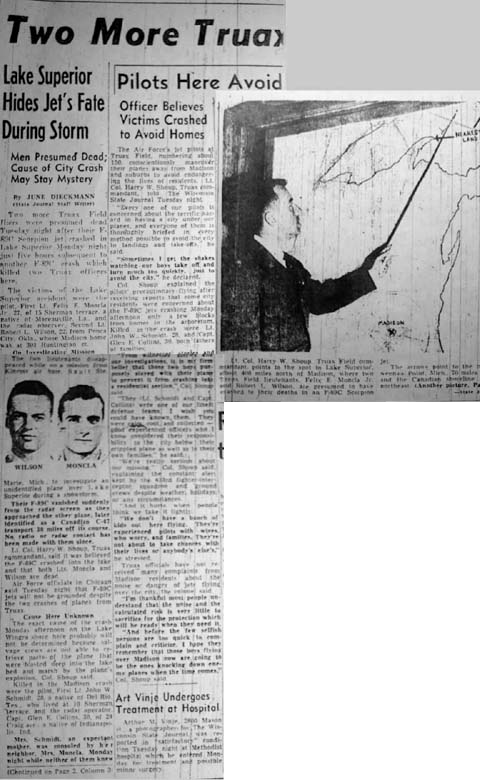 (photo caption follows)
Lt. Col. Harry W. Shoup, Truax Field commandant, points to the spot in Lake Superior, about 400 miles north of Madison, where two Truax Field lieutenants, Felix E. Moncla Jr. and Robert L. Wilson, are presumed to have crashed to their deaths in an F-89C Scorpion jet. The arrows point to the nearest land, Keweenaw Point, Mich., 70 miles to the southwest and the Canadian shoreline, 40 miles to the northeast. (Another picture, Page 2) - State Journal staff photo

(photo caption follows)
The F-89 Scorpion jet, shown above at Truax Field, is the type of plane which carried four Truax Field pilots and radar observers to their deaths in the past two days on the Lake Wingra shore here and in Lake Superior. The Air Force said F-89s will not be grounded despite the two crashes. - State Journal Staff photo