1947 Mount Deception C-47 Wreck
Source: "Fate" magazine – December 2001, pages 14 and 15 "The Mysterious Mount Deception Wreck"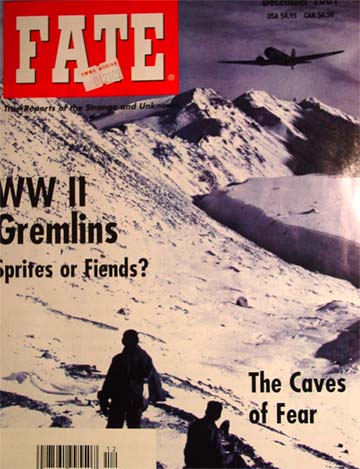 Cover from Fate Magazine, Dec. 2001
shows C47 over crash site on Mt. Deception, Alaska
On September 18, 1944, a C-47 of the Air Training Command left Elmendorf AFB at Anchorage, Alaska bound for Ladd Field in Fairbanks. The aircraft was carrying 19 passengers on a routine flight during clear but turbulent weather.
When the plane failed to reach its destination, a search was conducted and the lost C-47 wreck was found in by a B-24 near Mt. McKinley. The location of the wreck was one mystery, as it was found to have collided with Mt. Deception at the 19,000 foot elevation. This was 10,000 feet above the last reported elevation wen the plane's crew reported passing Talkeetna at 19,000 feet. The location was 60 miles left off the Anchorage-Fairbanks Airway route it was supposed to follow.
It took 53 days for a Land Sea Rescue team to reach the site, traveling by snow jeeps and sleds, resupplied by air drops by another C-47 Gooney Bird. When the rescuers reached the wreck, they did a thorough search of the site to determine the cause of the crash. The main part of the wreckage was found on a snow avalanche which had been initiated by the collision. It was determined the plane had hit the mountain at cruise speed, splitting open the fuselage and ripping the wings off. The port engine and propeller were found embedded in the ice near the peak of the mountain, but most of the wreckage had tumbled 1500 feet down the mountain where it lay in a mass of crumpled metal.
The plane had been carrying a full load of fuel, but there was no evidence of any explosion or fire. No baggage was found, but the pilot's B-4 bag containing an unbroken bottle of whiskey wrapped in cotton shorts, was found outside the cabin.
The biggest mystery was that despite an extensive search, no bodies or traces of flesh, blood, hair or body pieces were found with the wreckage or at the impact site.
What happened to the passenger's and crew? The account is somewhat reminiscent of many similar accounts where wrecked and abandoned aircraft and ships are found without any trace of the crew and passengers. Did the crew and passenger's abandon the aircraft before the crash or were they perhaps taken from the plane, by someone or some force before the collision of the aircraft with the mountain?