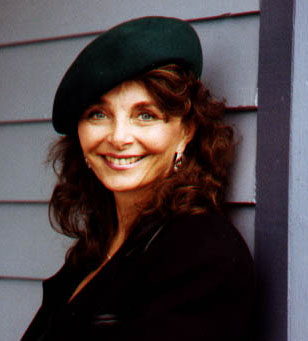 Presents
Linda Moulton Howe, Emmy Award-Winning Investigative Reporter
U. S. Government Policy of Denial About UFOs
in Interest of National Security
Includes eyewitness updates about military encounter
with glowing disc and silver triangle in Albuquerque,
New Mexico, on May 28, 1974.
Saturday, May 10, 2008 in Vancouver, B. C.
University of British Columbia
and
Friday, May 16, 2008 in Vernon, B. C.
Okanagan College, Kalamalka Campus
Emmy Award-winning TV producer, investigative news reporter and Reporter and Editor of Earthfiles.com, Linda Moulton Howe, presents hard evidence about the American government's strict policy of denial in the interest of national security to cover-up interactions by extraterrestrial biological entities on this planet. Linda is the Reporter and Editor of the award-winning news website, Earthfiles.com, and reports about science, environment and Real X-Files for Coast to Coast AM radio and Dreamland Online. The format for the evening will be a 90-minute presentation including slides, video, and audio and will be followed by a Q & A period after a break.
Appearance 1: Saturday 10 May 2008 in VANCOUVER, B.C.
7:00 PM at The NORM Theatre STUDENT UNION BUILDING AT UBC
6138 STUDENT UNION BOULEVARD, Vancouver, BC V6T 1Z1
Doors open at 6:30 PM.
Contact John: e mail (preferred) ccss@aebc.com or phone 604 944 8683
Advance tickets $20 ($15 Student, Senior >65, CSQ member)
Advance sales end 25 April 2008 All tickets $25 at the door
Mail cheque or money order payable to:
John Theobald
P.O. Box 3880
Vancouver, British Columbia, Canada
V6B 3Z3
Driving? Park here:
UBC NORTH PARKADE - 6115 STUDENT UNION BOULEVARD V6T 1Z1
On evenings and weekends (no attendants on duty),
a flat rate of $4.00 is required upon entry. Tickets can be obtained
at pay machines that accept $2, $1, and $0.25 coins as well as Visa and MasterCard.
Taking the bus? TransLink - Trip Planning
---
Appearance 2: Friday 16 May 2008 in VERNON, B.C.
7:00 PM, Okanagan College, Kalamalka Campus Vernon BC
Doors open at 6:30 PM.
Contact Merlin Beltain: email quester@cablelan.net or phone 250 542 5940
Early bird cost: CSQ members, students, seniors $15;
Non members $20. $25 at the door.
Check or money order payable to CSQ and mail to:
Merlin Beltain
Box 163, Parker Cove
Vernon, British Columbia, Canada
V1H 2A1
Driving?
During evening, you can park almost everywhere for free.
DIRECTIONS Google Maps
Campus Map - Okanagan College, Kalamalka Campus, Vernon B.C.